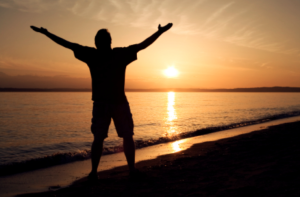 More than a fear of dying should be a fear of not living… not fully living in what God has planned for us.
Have you ever been really sleepy on the job while working one on one with someone? Yesterday I was in a meeting, listening, asking questions, taking notes, making a chart, but am I fully awake?
Thoughts I had in my head were, "Can they tell I am fighting constant dozing tendencies? Man, the conversation seems like it is stuck in slow motion. Certainly they noticed I have to keep taking random deep breaths in-between stretching into weird yoga positions every few minutes to try to wake up, didn't they?. At least I tried to shake my head violently to wake up only when they were looking away. Nothing is working, I hate this, is it 5:00pm yet? Whoops, did my head just nod? Did they notice? Help!"
Definitely I was distracted in those moments and was not able to fully learn or do what I could have done. I was not fully engaged because I was in two places, and fighting to get out of what I like to call "The Land of Nod."
Don't you hate fighting the nod, I remember as a kid seeing my Dad "do the head shake" to wake up while driving very late at night. We always made it home, but it made me nervous from the back seat.
Did you know there is actually a Land of Nod? It is a region east of Eden to which Cain went to live after leaving the Garden of Eden. The name Nod comes from the verb נוד (nud) denoting a "going back and forth." The root-verb means "to wander or move to and fro." It's used for the aimless wondering of Cain (Genesis 4:12), the flutter of birds (Proverbs 26:2), and the shaking of reeds back and forth (1 Kings 14:15). It's also used for a shaking or nodding of the head to show grief (Jeremiah 22:10, Isaiah 51:19), or compassion (Job 2:11, Psalm 69:20).
Spiritually speaking, do we sometimes catch ourselves living in the Land of Nod? The place where when it comes to our walking with God, we are not fully awake In Him because our distractions, regrets, frustrations, temptations, and even grieving over something all isolate us from being fully alive in His Spirit.
If I can be fully alive at an altar for 15 minutes, why can't I stay continuously fully alive In Him for 15 hours, or 15 days, or 15 months, or 15 years? One reason is I stop letting God alter me like He does at the altar. I find myself not fully aware of Him, because I find myself in 2 places. I am with Him, but sometimes I am also spiritually dozing in the Land of Nod due to circumstances in my life that I let take my eyes off Him.
I was tired yesterday, and knew I needed rest last night to keep that from happening again today. It is the same spiritually speaking when we are in the Land of Nod. We are not fully alive in Him, because we are simply restless in our heart and mind… and that place is exhausting.
Restlessness occurs due to separation from God's rest in our lives. Like a bottomless coffee cup, we can walk in the rest and peace of the Lord that is far superior then taking a physical nap or sleeping in. There are people steeped in depression who sleep all the time, their mind and spirit needs the rest that only comes from God's manifest presence.
Cain 'went out from the presence of the Lord' (Genesis 4:16). When Jesus says, "I will give you rest," (Matthew 11:28) He is not only promising the "Mother of all Saturdays," He is offering us a place in the presence of God, to make us 'stand in the presence of His glory blameless with great joy' (Jude 1:24).
So are we fully alive in His Spirit right now? What does that look like? What does it clearly not look like?
The contrast between rest and aimless wandering is perhaps best illustrated by the name by which the devil is commonly known: Beelzebub, derived from the verb zebub, to zigzag aimlessly, to and fro.
Our restlessness in this life comes from the enemy, who is trying to make us like Him. Our God offers us rest beyond comprehension, because if any man be in Christ, old things have passed away and all things are made new!" There are waves of refreshing that can flow over and in us in His Spirit that can take all the restlessness away, so that we can simply walk each day refreshed in the Spirit of the Living God. God leads us by His peace, not out of restlessness. I am restless because I am not fully resting in Him!
We can be fully alive in Him! That is walking in part of the Plan He has for us!
We have to be in the world, but we don't have to buy a house in the Land of Nod because we are learning to no longer allow the distractions of this life to weigh us down, and the confusing shaking of the head can stop!
Fully Alive in Your Presence, Lord make me fully Alive! I need the rest that only comes from You!