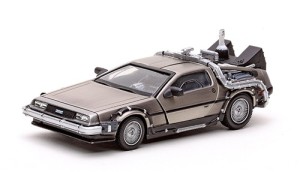 If a "Time-Travel Genie" gave you one trip, would you want to go to the past or the future?
After you decide, consider why you chose the way you did. Why is it important for you to spend your "wish-trip" at that place and time?

As a kid, I would definitely want to go to the future, and meet my awesome wife and kids! The decision gets harder though the older I get. I have a tendency to want to go back, not so much to right any wrongs I have regrets over (thankfully I have very few if any) but to relive moments in my life with folks very dear to me who are no longer in the present. At the same time, I am very excited to catch a glimpse of the future, and would love to see generations of my family yet to be born.
Whether you would go back in time or forward, there is an unspoken desire to want to change the past like Marty McFly to fix his present, or like Ebenezer Scrooge… change his present to improve his future. But is time-travel the only way to do that?
If I can't time travel, it is comforting to know I serve a God who is not limited by time or space. A day is as a thousand years, and a thousand years is as one day to Him the Bible says. Our 75+ years on earth are but a vapor to Him! He sees the end from the beginning because He is the Alpha AND Omega!
Listening to His promptings in my heart and mind can actually help me change my life in the ways I need to–all from the comfort of my prayer closet.
I don't need a time-travel trip, I need to more clearly hear His voice and obey!
Jer 29:11 "For I know the plans I have for you, declares the Lord, "plans to prosper you, not to harm you, plans to give you hope and a future."
This familiar promise is on graduation cards this season, and used 24/7 to encourage folks that "God has a plan." Although that is completely true, it is interesting to note that the "you" in the verse is actually plural and not singular!! This makes perfect sense when the context of the verse is considered. He was speaking originally to the nation of Israel, not an individual. The Certified Country Version of this verse might read: "I know the plans I have fer all-y'all …"
This is important to remember with this verse because we are actually a vital part of an overall family, community, region, and a nation.
His plans are bigger than 'who should I marry,' or 'what school should I go to.' It is to redeem a chosen remnant for Himself. A Chosen People. His Bride.
If He has specific plans for how to enhance your life, to inject hope into your heart, and give you a good future… it's not just FOR YOU!
It's for others! It's for your neighbors, your boss, your family, your church, your county, your world!
His plan for you is embedded in a bigger plan! Not all His plans for us may seem right at the micro level. There is a lot of pain and suffering in the world. A lot of bad things happen that, if we only have a myopic view of "God's plan," do not make sense; and may even seem to contradict what we know of God's character.
Of course in the end, we will understand, but in the here and now, recognize His plan for me is only a tiny part of His master plan for a people.
1 Cor 2:9 is often quoted… "No eye has ever seen or no ear has ever heard or no mind has ever thought of the wonderful things God has prepared for those who love Him."
But rarely if ever does anyone know the next verse …"But God has revealed these things to us through His Holy Spirit!"
That changes everything! He wants to reveal to us what no eye or ear has witnessed!
It's clear The Lord is going to build His house! The question is whether we want to be a "sub-contractor" under Him and let HIM be the General Contractor. If we want to be a part of building something bigger, we can, but if we don't He will get someone else… because He has a plan for "a people" He can call His own. He is building them and His plan for us is to help build them!
It's awesome He is not only the GC, but He is also the owner, who can build His house exactly the way HE wants.
How can we know these verses by heart and not actively enquire of the Lord for His overall plans, and ask how we can help today. We can do that by "waiting on the Lord."
Waiting on the Lord is more like being a waiter who provides good service, "What can I do for you, do you need more water? Can I get those plates out of your way?" and less like someone tapping his fingers nervously, while looking at his watch… Let's wait on the Lord, and serve Him in ways that please Him.
A time machine would be fun, but there is more interesting things right now with the time we have that we can be a part of right now that will impact the future of our sphere of influence… ask Him, He would love to tell you!
After all He did promise, "Call unto me, and I will answer you, and show you great and mighty things that you know not of….." Jer 33:3